Please follow and like us:
What's your talent? Maybe you're a brilliant seamstress, musician, photographer, baker or artist?
Or maybe you have the gift of the gab? Or you're a good listener? A problem solver? Or you're into numbers? Or systems? Or meditation?
Everyone has a unique talent or set of talents that make them who they are and determine how they tick.
If you're lucky (or intentional), you land up in a career that allows you to develop and use your talent.
If you're not so lucky, you don't get to develop or use your innate talent and going to work becomes drudgery… something you have to do to pay the bills, rather than something you want to do.
Months turn into years and one day you wake up and realise you're caught in a trap.
You're working in a job that's unsatisfying, trading your waking hours for just enough money to cover your monthly expenses… or worse, you're falling behind each month and clocking up debt on your credit card.
You live for the weekend when you can finally get to relax.  But you're so tired and uninspired by the time the weekend rolls around that you just veg out in front of the TV.
You have a sense that something's off, you lost your way somewhere along the line, you gave up on your dreams.
You feel like you're living a life of quiet desperation.
You're not being paid what you're worth.
No-one appreciates you.
And no-one knows the amazing talent you have deep inside you… nor how much you yearn to have someone notice.
Enter…  Talentpreneur Academy
I was recently introduced to the Talentpreneur Academy*.  
*This is an affiliate link. Affiliate Marketing is one of the ways I earn income from my websites. At no cost to you, I will receive a commission should you choose to buy this course after reading my honest review below.  Oh, and in this case, you can actually save money.  You get 50% off when you sign up as a student to Talentpreneur Academy via my affiliate link.  At Checkout, add the Coupon Code:  IM50OFF.
On with the review…
Talentpreneur Academy – Review
The first thing that struck me about Talentpreneur Academy was that this course has HEART.
It felt like the Course Creators knew about that deep inner longing to be more, do more, create more and live a happy, fulfilled life.
I love their heart-centred approach.
What Makes You Happy?
It's a course dedicated to those who seek happiness and carefully designed to open you up to start dreaming again.
Even as an Entrepreneur and lifelong dreamer, I found myself re-looking at my dreams and what makes me happy as I worked my way through the lessons.
If it's been years since you considered your hobbies and talents or given a moment's thought to what you love to do, this is your chance to list them all and pick one to turn into a business.

Imagine if…
One of my favourite sentences in the course was this one:
"Imagine if you only focused on one thing for the next 31 days, which one would you choose?"  
A powerful thought. And another thought struck me as I considered this one. 

What if you knew you only had a year to live?  
Would that change how you viewed this question?
Would you stay in your current job or find a way to live your passion and fully express yourself?  Would you play full-out?
Wouldn't you want to enjoy your remaining days on earth, doing things that light you up,  bring you and your family happiness and fill you up with pride?
What legacy would you want to leave for your children or loved ones? How would you like them to remember you?

Would you like to make a difference, to impact this world in a positive way?
And if so, which of your Talents will help you achieve this?
Because when you become a Talentpreneur, you're committing to using your talents to their fullest.
I call it giving your talents back to God because you're not just doing it for you, you're doing it for all the world.
You're doing it for the greater good.
God wants us to be happy and live a full life – an inspired life.
As you find your inspiration you in turn inspire others. As you start feeling happier in yourself, your happiness becomes contagious and ripples out to all those around you.

Doing what you like is freedom… liking what you do is happiness.
What is Freedom to You?
Don't miss the lesson entitled "All About Money", which explains the difference between working for money and building an asset which generates money for you.
Grasping this lesson alone could be the mindset shift you need to go on and make millions.
Finding Your Grand Idea
The next section of the course is dedicated to guiding you through the process of finding your grand idea.
This section starts out by unpacking what you love to do and then matching it up with what the world needs.
A series of questions helps you come up with the problem you can solve using your talent or hobby.
Once you've settled on that brilliant idea you feel will rock the world, you're led through a series of checks and balances to weigh up your idea against other existing businesses out there.
Validating Your Grand Idea
You start by looking at your idea on its own. Is it simple, measurable and achievable? Can you turn your idea into a viable business and if so, how long will it take you?
Then you move on to validating your idea by researching similar ideas online, asking people for their opinion and carefully listening to their answers and finally, by testing out your idea.
By the end of this section of the course, you'll be very clear on whether to move forward with this particular business idea or go back to the drawing board.
A Note on Accountability
This is a good time to mention that if you really want to get the most out of this course, it's important to complete each lesson and each exercise associated with the lesson.
You'll find a handy Workbook that guides you to your answers. You can either download the entire workbook as you start the course, or you can download the worksheets one by one, as you complete each lesson.
I found this really kept me accountable and on-track.
In fact, it's a good time to mention that entrepreneurship is all about being self-motivated, committed and willing to put in the work.  If you can't complete these exercises, you'll struggle to set up a business based on your unique talents.
Having a step-by-step plan is one thing, following it is another. The onus is on you to get. this. done.


Planning Your Business
Now that you have a clear vision for your business, you start outlining your business plan.
Again, you're given a clear map to follow. You simply need to complete the missing details on the worksheet.
Unique Selling Points
This is followed by a wonderful lesson on uncovering the Unique Selling Points (or USP's) of your proposed product or service.  Again, all you need to do is read through the lesson and answer the questions in the workbook. Easy peasy.
Branding
There's a beautiful analogy in this lesson that helps you understand how your branding fits into your overall business plan. It also helps you understand the importance of branding.
It made me want to go back and re-look at each of the brands I've developed online and consider whether they reflect the purpose of each business and appeal to my target audience.
I wish I had found this course when I started out in business. It's so good to find everything in one place, set out in a logical order.  It's like having a coach who takes you by the hand and leads you through the process – except that you can learn in your own time, at your own pace, and come back to lessons whenever you like.
And now comes the exciting part…! (As if all that wasn't exciting enough?  Ha)…
Drumroll…
Making Your First Dollar!
There was a surprise in this lesson.  The approach the Course Creators put forward was one I wasn't expecting.
And yet it makes so much sense… or should I say cents?
I'm not going to say any more than this because I don't want to ruin the surprise for you but if you apply this one lesson to your new business, you'll get your money's worth on this course.
It's genius!
Oh… did I mention you can get the Talentpreneur Academy Course at 50% off using my Coupon Code?
I mean half of their already discounted price of $59.90.
Click here* and Apply Coupon Code: IM50OFF

Which brings me to another very important point. While we are on the subject of making your first dollar…  the Course Creators of Talentpreneur Academy are throwing you a couple of lifelines.
How to Make Money with Talentpreneur Academy 
Other than the obvious… using your talents or hobbies to design and launch the business of your dreams, there are two other ways you can make money with this course.
1. Affiliate Program –  Earn 50% Commission
The Course Creators have built into their Course a way to generate income before you even set up your own business – via their Affiliate Program.
You can make money by simply promoting this course to your followers on social media or your friends via email or WhatsApp.
You're automatically granted entry into the Affiliate Program, the moment you purchase the course and you'll find all the details at the end of the course.
Commission is very generous, Forger Generation pay 50% Commission to their Affiliates.
2. Competition – Win $500
They are also running an awesome competition for the best new business idea in 2020.
Submit your entries by 30 September 2020 to stand a chance of winning $500!
What a great way to kickstart your new business.  Now you know, you can keep the competition top of mind when you're dreaming up your grand idea.
Winners to be announced on 31 October.
Get all the Competition details here.
The Equation of Selling
I found the Lesson on The Equation of Selling invaluable, because…
they present a handy equation (as per image)
explain each term, and then…
give practical tips on how to increase each number in the equation
This is one of the lessons in this course that I'm sure I'll come back to again and again.
The Marketing Essence
The next lesson, on The Marketing Essence, is another lesson I'll apply over and over.
Don't skip these lessons because they are key to your success in any business.
I believe in multiple income streams. I'm a serial entrepreneur with a number of business ventures going at any one time.
I found I could apply the lessons I learned in this course to all my different business models – my niche websites, the products I sell in my e-commerce store, the affiliate products and services I promote as well as my network marketing business.
This course is just as applicable to seasoned entrepreneurs as aspiring entrepreneurs.
Online vs Offline Advertising
Although I run a digital business, I'm always interested to learn about offline techniques and whether I can apply them to my business.
The lesson on The Online and Offline Era gives you the full picture and helps you decide where best to advertise your products and services.
Leveraging and Collaboration
I realised after doing this lesson that though I'm very pro collaborating with others in my niche, I haven't focused on this nearly enough in my business.
This is a very powerful business lesson.  It reminds me of how many business deals have been struck on the Golf Course.
Oh, and while we're on the subject of leverage and collaboration, look what Lynne Huysamen, Vidya Sury and I got up to on the morning of the 7th August – an update to this review.
I've decided to make a concerted effort from now on to actively seek out partners I meet in these places where I hang out frequently…
Networking Events for women entrepreneurs
Facebook and LinkedIn Groups for women entrepreneurs
Courses I'm participating in
Online Events I attend
Where could you find potential collaboration or JV partners for your business? One of the quickest ways to extend your reach is to join arms with someone in a similar field.
Building a Business System
The next section is all about your business system and setting up a schedule from inception to launch.
I have to say,  I'm terrible at this and can use all the help I can get. Which is why I breathed a huge sigh of relief when I got to the next lesson…
Creating a Winning Team
This lesson brought home to me that I don't have to do this alone. And I've definitely being going it alone for far too long. And it's holding me back.
I don't have to know it all, I don't have to master every aspect of my business. In fact, it's more important to recognise my strengths and weaknesses and hand over the tasks I'm weak in and don't enjoy to someone who's strong in those tasks and does enjoy them.
Lesson learned. Now to start applying it in my current business. Watch this space.
And that's how you find…
Synergy
That wonderful place when it all starts coming together. But just in case you reach this stage of the course and it doesn't quite feel that way, the course goes on to address some common problems you may face and fears that may arise.
Nip these in the bud early and you're sure to set up a successful, thriving business.
The last few lessons are motivational.  The course starts with positive mindset and ends with positive mindset – the single most important component in your success, in life and business.
Bonus Lesson – 6 Ways to Make Passive Income
I declared 2020 my year the create passive income streams, so I was thrilled to find this bonus lesson.
It takes you through 6 very different ways to generate passive income:
1. Bank Deposit Interest
2. Real Estate
3. Intellectual Property
4. Internet Marketing
5. Franchising
6. Network Marketing
Which one appeals to you or will you invest time or money in all of them?
What I Love about Talentpreneur Academy
So to sum up…  here are 15 Reasons I think You should consider taking this course.
Heart-centred Approach
Dedicated to Seekers of Happiness
Opens You Up to Start Dreaming Again
Cultivate a Positive Mindset 
Get Inspired 
Uncover Your Grand Idea
Validate and Test Your Idea
Learn Basic Business Principles
Learn Business Strategies
Learn Marketing and Sales Strategies
Learn How to Build a Business System
Learn How to Create a Winning Team
Learn How to Make Your First Dollar
Instant Access to Lucrative Affiliate Program
Competition to Win $500
You will benefit from this course if you…
have a talent you'd like to turn into a business
have a business idea but no business yet
don't have a business idea yet and would like to come up with one
have an existing business and would like to make more money
would like to earn money doing what you love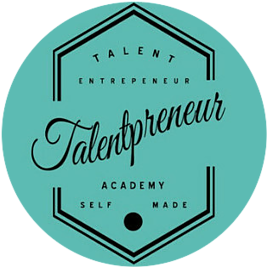 For me, it ticks all the boxes.
Remember… You only pay $29.95 for the Talentpreneur Academy Course with my Coupon Code.
Join Talentpreneur Academy here*
And Apply Coupon Code: IM50OFF
Competition Details here – WIN $500.
*This is an affiliate link.  I will earn a commission should you choose to join Talentpreneur Academy.  All opinions are my own.
Please follow and like us: