Please follow and like us:
Are you passionate about makeup and wondering how to start a makeup line with your name on it? We've got you covered! Launching a successful makeup business may seem challenging, but we've got you covered with a five-step guide that will make the journey easier and more efficient. We'll show you how to create a killer marketing plan and find reliable suppliers so that your venture into the world of cosmetics is both profitable and rewarding. Don't wait any longer to make your dream of owning a successful beauty brand a reality! Let's get started now!
How to Start a Makeup Line in 5 Easy Steps
1. Define Your Brand Identity and Mission
Develop a unique concept for your makeup line that clearly defines the purpose of the brand. Think about its values, target audiences, mission statement, and so on. You may also want to consider partnering with a reputable manufacturer to produce your products in bulk, such as TCI.
2. Create a Foundation Line
After you have established the core identity of your brand, you can start building up a foundation line of cosmetics. This should include basic essentials such as primers, concealers, foundations, highlighters, and other staples that provide coverage and help to create an even canvas for the face.
3. Expand Offerings With Color Cosmetics
Build on top of your foundation products with color cosmetics such as eyeshadows, blushes, lipsticks, and more. Brainstorm new product ideas that can help differentiate your brand from others in the market. Research trending colors and textures based on fashion weeks or celebrity looks that can be incorporated into unique collections for customers to explore.
4. Develop Quality Assurance Protocols
Once you've decided what items will be included in your makeup line, it is important to ensure quality control by developing stringent protocols regarding packaging design, ingredient selection, product testing, and any other points related to manufacturing processes that could affect product efficacy or safety standards in any way. Working with a supplier like Strax Cosmetics, who has experience working with beauty brands, allows this process to be sped up while keeping these standards intact.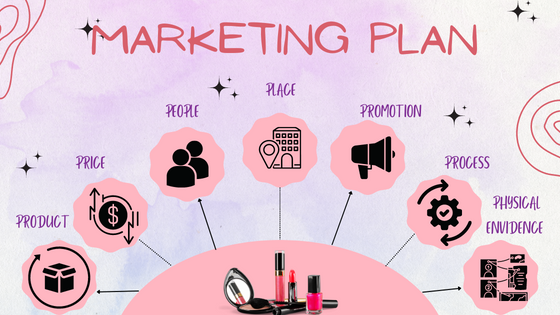 5. Market Your Makeup Line
Now that all aspects of production have been accounted for, it's time to launch! Create social media campaigns across various platforms introducing followers to your company and products, which encourages interaction between customers and brand representatives alike. This helps build relationships between customers and ultimately generates loyalty towards your business over time. Additionally, try creating buzz through influencer collaborations or attending trade shows for additional visibility amongst potential buyers who could become interested in carrying your products in-store down the line!
Final Thoughts
Starting a beauty brand is an exciting and rewarding venture. With the right strategy, research, and partners in place, you can create a successful makeup line that stands out from competitors in the industry. By following these five easy steps to start a makeup line from scratch, you'll be well on your way to creating products that bring joy to customers everywhere! Now go forth and start building your ultimate dream makeup line today!
Please follow and like us: