Please follow and like us:
So… we are out on a playdate, enjoying watching our children playing on one of their favourite playgrounds, St. Matthews, when there's a commotion.
Now, this is nothing out of the ordinary.  When you're out with a group of toddlers, play is frequently interrupted with some argy-bargy. This one wants that toy, or that one wants to drink this one's milkshake, this one thumps that one on the head… all par for the course.
In this case, my so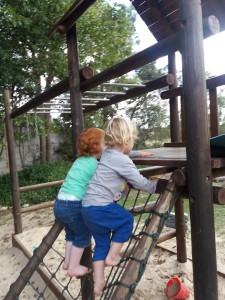 n had just slipped down a little from the rope he was climbing, and burst into tears.  I thought he had hurt himself on the rope
Nope! When I listened closer, I found he was crying:
"I want to be first, I want to be first!" 
3 of us Moms, looked on, knowingly… leaving just one Mom puzzled at Ben's reaction.
2 of us had just completed Tall Trees, a brilliant course on personality profiling and how it fits into parenting.
And 1 Mom, Juanita Oosthuizen, was the Trainer of said course.
3 of us knew that Ben's personality profile is strongly Rose Bush – bright and beautiful with some prickly thorns.
As a driven leader, he needs to be first!
Juanita resigned from teaching when she adopted her daughter.
She then felt called to a new teaching career, one which finds her self-employed (an incredibly inspiring Mompreneur), and one which Juanita calls her Ministry – she became a Facilitator for Tall Trees and Evergreen Parenting.
I did Tall Trees with 3 of my Mom friends and we all got so much out of it, that we signed up for the longer, Evergreen Parenting course. I'll write Part 2 of this article once we're done.
Before we started our course, we all completed a short (10-15 minute) online test to determine our personality type.
Tall Trees (as the name implies) describes each personality type as a tree, which gives a lovely visual reminder of characteristics of each type.
Of course, people are seldom just one personality type. They are usually combinations of 2 or 3 or even all 4 types, and each unique in their own way.
What was wonderful about our course, was that we all turned out to have different personality types, and we learnt about ourselves and each other through discussion.
In this way we were also able to work out what our husbands and children might be, to make up the pieces of the family puzzle.
And this is where you start to learn how to parent a child with love…
Knowing how you and each of the members of your family like to operate in the world goes a long way to helping you celebrate rather than criticise your differences.
I learnt that young Ben's Love Languages are Acts of Service and Words of Affirmation, whereas my husbands love languages are Words of Affirmation and Quality Time.  I can see how much happier my boys are as I apply these principles.
I also learnt that to teach Ben any new skill or to ask him to do any task, he needs to be offered a choice or a challenge, whereas a Lollipop would be more co-operative through teamwork, a Pine by giving them ample time and space to finish a task, and a Palm, by making it fun.
This led to a breakthrough for myself in my mental block against housework.  I realised I could find a way to make it fun, by bopping along to music while I work. My house has been a lot cleaner since! 🙂  This in itself, improves the family dynamic. 😉
Juanita also emphasised how important it is to constantly teach, coach and train our children, showing them what we want from them. Discipline or punishment becomes a last resort.  This made a lot of sense to me, as I'm loathe to punish Benjamin when I feel he is only just starting to understand what's expected of him.
There were many aha moments and bonding moments with the Moms on this course, and our household is more peaceful and happy since I completed it.
I would highly recommend this course to any parent.
If you'd like to get in touch with Juanita, email her on: juanitaoos@mweb.co.za or go to: Tall Trees Training
Please follow and like us: