Please follow and like us:
How to Kit Out Your New Office
Starting your own business is both exciting and overwhelming. There's so much to do before you can begin offering your services to prospective clients, it's hard to know where to start!
Many small businesses make the mistake of jumping into debt too soon, thinking they have to have everything up front and then being unable to pay for it in their early stages. This isn't necessary, though, if you plan strategically ahead.
Instead of stressing yourself to the max financially, create a plan of action, determining what you need to have to get started versus what you want that can wait until you have a steady stream of income coming in.
Follow these tips to professionally kit out your new office when you're starting your business to separate the must-haves from the can-waits.
What You Need to Know and Have to Start Your Business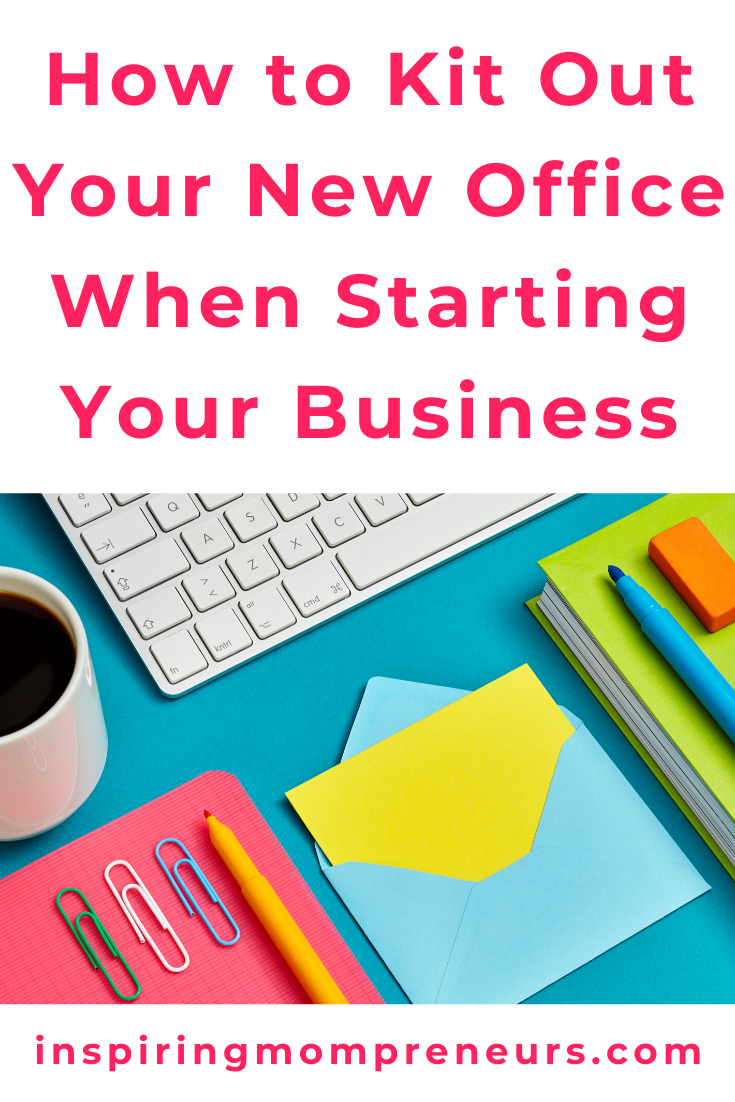 No matter what kind of business you have – brick and mortar or web-based – you need a home base office.
Organization is key to a successful enterprise and running your business from your kitchen table isn't going to work if you want to move ahead.
You're going to need an office and a few essentials before you open your business up for clients. Be sure that you have the following in place from day one:
1. A good computer software system 
Whether you're running a physical business or are based mostly online, to be successful in the consumer market today you almost always have to have computer and internet access.
Choose a software program to help you run the business that can grow with you. Many small businesses start with programs that will help them keep track of their accounting, payroll, invoicing, inventory management, employee information, scheduling, customer databases, and more.
2. A way to receive payment
Every business is different and you have the final say over how you accept consumer payment for your services. However, many people expect to be able to pay for their transactions without cash, especially if there's a distance barrier involved.
Make sure you have a method to receive payment and prevent any loss of business that might happen if you don't accept the form of payment a customer prefers. Credit cards can be accepted now through apps on your phone, but most companies charge at least 1% of the transaction as their fee, which can add up.
Other options include checks that can be processed through your bank immediately, apps such as Paypal, CashApp, and Venmo, and bitcoin, to name a few.
3. The right equipment to run your business
What service do you want to provide to your customers? Do you have the necessary equipment to offer those services?
Think through each step of the process, from initial customer contact to the final production and invoicing stage. What equipment will you need?
For some businesses, this might be nothing but a reputable computer. For others, you may need a computer, a phone system, a copying machine, and/or a work vehicle.
Instead of buying brand new equipment along with all of your other startup costs, look for more options at equifyauctions.com and other used/refurbished dealers.
4. A smartphone
Yes, business owners in the 21st century need to get with the technology of today. Smartphones are required to do so much more than make or take phone calls – you can work your business from anywhere, keep track of your calendar, market your services on social media, and more, all from a pocket-sized computer.
5. A computer security system
Chances are, you are going to be accessing your clients' sensitive information in order to accept payment, at the minimum. Your computer needs cybersecurity to be secure enough that your clients' personal info is safe.
This aspect of your business is required by federal law. Any breach of security on your part can set you up for a lawsuit that may destroy your business, and possibly even your personal, finances.
6. Postage and mailing equipment
Businesses that provide tangible items as their product offerings or invoice their customers via mail need to do so efficiently. Running to the post office daily or weekly is an unnecessary waste of time.
Through online web programs and apps, you can purchase machines to pay for postage and mail your items right from your doorstep. You can even have the envelopes, boxes, and other stationery goods that you need to be delivered to you.
7. A secure internet connection
WiFi is a must in today's marketplace economy. Depending on your business, your customers will probably expect to be able to get a hold of you easily and receive a response quickly.
If you don't have WiFi in your office, you will be severely limiting your productivity and efficiency. Computer networks are essential, so you will need, at a minimum, an ethernet cable, router, and modem, all available from your internet service provider.
8. The minimum of furniture
Getting started, you don't need to kit out your office with more than just the essentials. A desk, a comfortable, ergonomically friendly chair, and room for your printer and other required equipment is all that you need to budget for.
If you're going to be the main person seeing your office, not your clients, then don't splurge on brand new furniture, either. You can build up to that gorgeous desk and chair combo you've had your eye on and set it as a reward for yourself when your business takes off.
9. Office supplies
Hit up your local office supply store and get the basics. Load your cart up with:
● A couple of reams of copy paper
● Blue and black pens
● A dozen or so pencils
● A pencil sharpener
● A stapler and staples
● Post-it notes or a memo book
● Highlighters
● Paper clips
Every business is different, so you may need more than these few items, but these should make it on your "essentials list."
Get Started on Your Successful Business Journey
Now that you've kitted out your office with the essentials and didn't break your bank doing so, you can move forward with your business plan. Organized and ready for action, it won't be long before you will see and be ready for those clients to roll in.
Please follow and like us: