Please follow and like us:
"Oh, The Places You'll Go" by Dr. Seuss was one of my favourite books to read to you my son when he was little.  Luckily, for us, we live in Cape Town, South Africa, because, oh, there are sooo many fun places to go in Cape Town.
If you've been looking for the best places to travel with children,  I highly recommend you add Cape Town, South Africa, to your list.
Hot Tip 
Whether you're flying into Cape Town International Airport or cruising into the Cruise Terminal at the V&A Waterfront, I would highly recommend that you hire a SANI rental car so you and your family can get around the Peninsular with ease.
5 Fun Places to Go in Cape Town with Children
I've made it my mission to take my son on playdates at all the fun spots in Cape Town and I'm pretty sure we haven't been to all of them yet.
Here's a quick sample of five of our favourite spots in and around Cape Town with awesome play areas for children.
1. Outdoor Parks (Free)
Ratanga Park, Century City
Once upon a time, not so long ago, Cape Town had an awesome Theme Park called Ratanga Junction.  Sadly, it closed down on 1st May 2018 because it was too expensive to run.
That said, we love the new park that emerged in the space where it used to be – and the park is FREE.
Children can scoot, skate, cycle, run, play, picnic, climb rocks or jungle gyms, swing, or admire the flowers, bird life and views of Table Mountain.
It's also a fabulous spot to have a children's party.
Parents can catch a great cup of coffee at Bootleggers, just outside the park.
Just down the road is another of our favourite local spots, Intaka Island, where you can enjoy a beautiful nature walk, identifying plants and birds along the way.
If you've got a few Rands to spend, you can also catch the tram, a boat trip along the canals, or book a guided tour.
Green Point Park
Green Point Park is absolutely stunning and always fun for children.  The gardens are every bit as beautiful as Kirstenbosch Gardens (Cape Town's National Botanical Gardens) with a biodiversity trail, beautiful lake and labyrinth.
There are two playgrounds, one open to all kids up to the age of 16, and one cordoned off for the little ones to play (up to age 6).
The main play area is huge with loads of interesting equipment for the children to climb, swing and slide on, as well as pathways where children can scoot or cycle.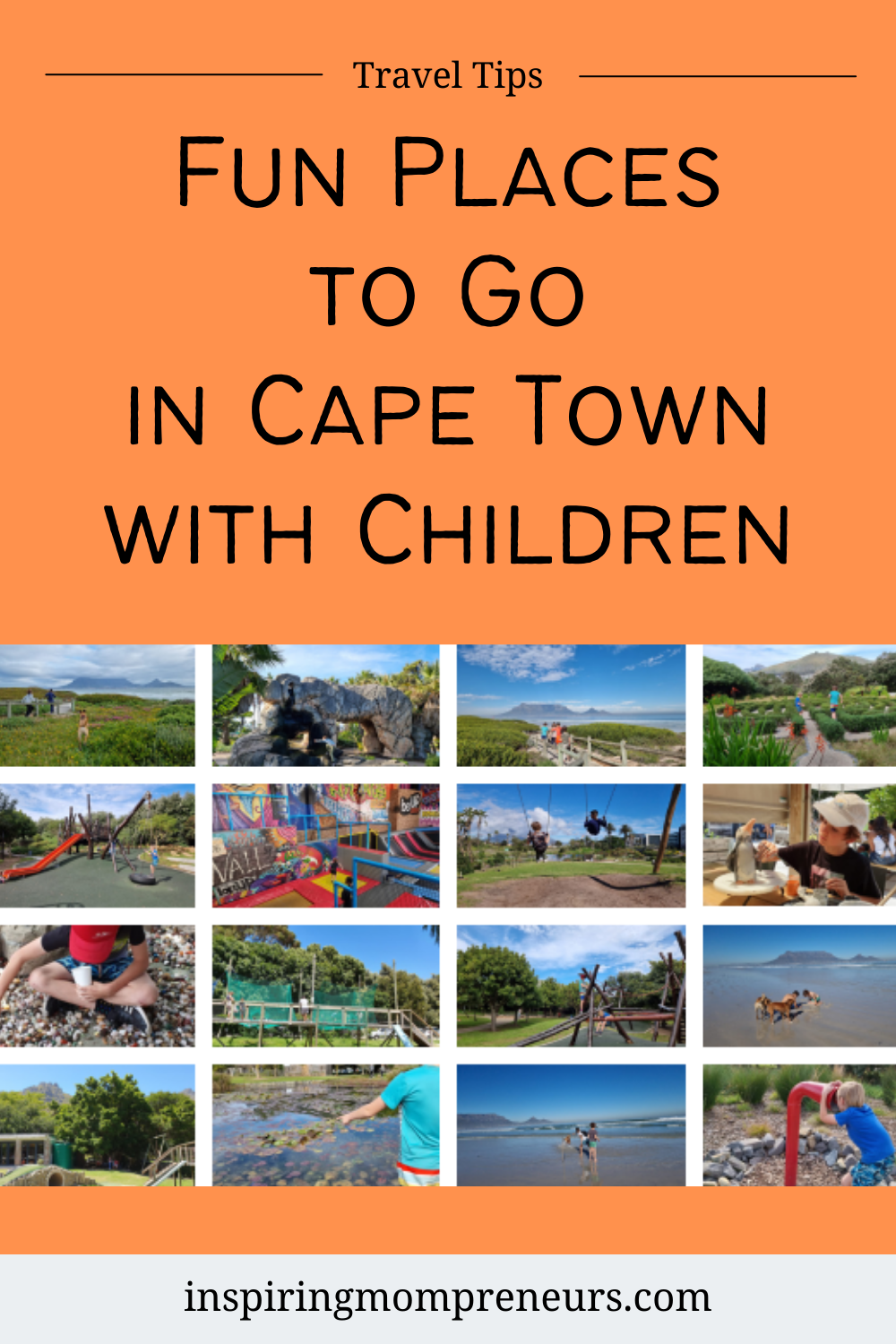 We love the Experience Garden in Summer (currently under reconstruction) because there's a fountain and running water for children to splash in.
There's also an area with outdoor gym equipment and a volleyball net, for adults or children to get some exercise out in the open.
Dogs are allowed in the park, on a leash and there's a separate fenced-off dog park behind the fitness equipment area, where dogs can socialise and run free.
Children often have birthday parties and picnics here, all free to the public.
If you've got a few bucks to spend, there is also a restaurant in the park, where you can get light meals, great coffee and awesome ice creams.
2. Indoor Parks (Pay to Play)
Most travellers visit Cape Town in Summer, (from November to March). The rainy season is Winter so you can be assured of sunny days if you come in Summer.  However, Summer is also the windy season and some days the "Cape Doctor" (South Easterly Wind) blows like mad.
Personally, I think the best weather is in Spring or Autumn (September, October, April, May) because that's when we get a number of lovely hot, sunny, still days.
However, Cape Town weather is unpredictable, so please don't quote me.  This year we had an early Winter, and early Spring (our Spring flowers have been out since July) and now it feels like Winter again.  Brrr. 6.5 degrees this morning, in Spring.
Related: 4 Things to Know Before You Travel
So, for the days when it's too rainy or windy to get outdoors, Cape Town also offers a plethora of indoor parks.
Pictured below is Be.UP Park, Pinelands where you will find trampolines and climbing zones, as well as a play area for the little ones.
And there are a number of indoor parks similar to this, they are just usually too busy for me to get photos with no other children in the picture.
23 Jump Street in Rivergate, near Parklands   
IPIC Play in Durbanville

Rush in Claremont
Playstation by Rush in Kirstenhof
Bounceworld in Montague Gardens
Total Ninja in Black River Park
PlayDate SuperPark at the V&A Waterfront
Wonderdal at Hazendal Wine Estate
We've been to all of these and our two favourites are Bounceworld because it's closest and cheapest (kids can play as long as you like for R105), and IPIC Play in Durbanville because there's so much to do there and they have a KNEAD Bakery in-house.  Knead I say more?
3. The Beach
Hot Tip:
The South African sun is super harsh in Summer.  Remember to pack a beach bag with sunscreen, caps or hats, and bottles of water for the whole family when heading out to any of our gorgeous beaches.  Ideally, you want to avoid the sun between 11 am and 3 pm, especially when there's a breeze blowing, because that's when you don't notice when you're burning. Sunstroke and sunburn are NO fun at all and can ruin a holiday.
Cape Town has many beautiful beaches to choose from.
Our favourite beach is our closest one, Sunset Beach, between Milnerton and Dolphin Beach.  We've spent many hours there playing and having fun.
We live on the West Coast, so the ocean is usually colder (Atlantic Ocean vs. Indian Ocean), but we have the best views of Table Mountain.
Sunset Beach is safe and usually quiet and we can let our dogs run free.  During Summer, when the wind gets stronger, we often see kitesurfers and windsurfers doing their thing, which adds a burst of colour to the scene.  And let's not forget those magnificent sunsets!
Clifton and Camps Bay are usually where all the stars and celebrities hang out in Summer.  You may find a few models sunbathing topless on Clifton so it may not be the best beach to take children.   There's a strip of top-notch, trendy restaurants with stunning beach views on the Main Road of Camps Bay, which attracts the rich and famous.
Clifton, Bantry Bay and Sea Point have the added benefit of being wind-free almost every day of the year.  Not Camps Bay though.
Noordhoek and Llandudno have their own charm.  Noordhoek with its gorgeous long white beach and the option to go horse-riding.  Llandudno is a cove amidst gorgeous mansions and has shady trees right on the beach if you need to take a breather in the shade.
Hout Bay has a lovely beach with its own little harbour with some of the freshest fish in town.  You can book a trip to Seal Island from the harbour.
And you can visit the penguins at Boulders Beach near Simon's Town while you're on that side too.
Surfers and swimmers love Muizenberg Beach or Fish Hoek on the Southern Peninsular where the Ocean is warmest.
Talking about Simon's Town…
4. The Scratch Patch
No visit to Cape Town with kids is complete without a visit to The Scratch Patch.
Children love scrabbling around to pick out their favourite crystals and semi-precious stones at The Scratch Patch in Simon's Town or the V & A Waterfront, and then playing some Cave Golf afterwards.
We've also visited a lesser-known branch of The Scratch Patch out at the Ostrich Farm near Zone 7.   If you'd like to go a little off the beaten track, I highly recommend taking a turn that way.
And if you drive a little further down the N7, there's a cute little town named Philadelphia where you can visit a fascinating crystal shop called Magic Minerals.
Nothing quite like exploring the wonders of the Western Cape with a rental car.   So many places to go, and so many things to see.
5. Clay Cafe Hout Bay


The Clay Cafe in Hout Bay used to be a rustic little house on a hill with a ramshackle garden.  Due to its immense popularity, it's blossomed into this gorgeous space as well as a second venue in Cape Town CBD.
Still the same old Clay Cafe we know and love, from the creative side, but now with a much fancier restaurant and stunning play area.
We took our creative son with us who chose this ceramic penguin to paint and one of his best friends who opted out of the creative fun to play and play some more on the trampolines.
Even though Clay Cafe is now much bigger than before, when we went (during High Season), it was absolutely packed.   It's also a party venue and some parties take up a good few tables, so best to book your visit upfront.
Clay Cafe is super organised.  You get to choose your ceramic piece to paint from a plethora of options and there's just as much choice when it comes to paint colours.  You walk away with a tray full of goodies and the waiters double as creative guides, teaching you what to do.
It's an amazing experience whether you're an adult or child looking for something creative to do on your travels, or something "home-made" to bring home as a memento.
Final Thoughts
Soooo many more fun places to go in Cape Town, but I'll leave it there for now.
When my son was little, I created the hashtag on Instagram #bestplayareascapetown to share our experiences and I still seem to be the only one using that hashtag.
Check that out if you'd like to check out a few more fun places we've visited.
Please follow and like us: