At around the age of 2, I noticed my son found playing with his peers more interesting than playing with me. I knew it was time for him to start Play School because I just wasn't able to stimulate enough at home anymore.  He definitely developed valuable social skills and built strong friendships at school. He blossomed.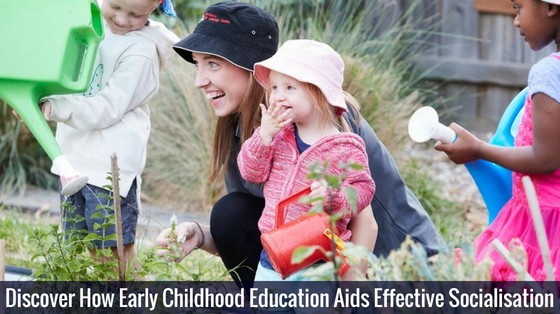 How Early Childhood Education Aids Effective Socialisation
The importance of socialisation for children cannot be underestimated. If you are looking to find a good child care centre or preschool for early learning, this reason amongst others, you hit the nail on the head.
There is no better place for kids to build their social skills than in a safe, holistic and inspiring environment. Child care centres bring together kids from a range of different backgrounds and cultures so young minds can enhance socialisation from the onset.
If you are seeking child care in Melbourne CBD, then Guardian Early Learning Group run 12 quality child care centres in the area. With the highest qualified and experienced educators teaching in secure facilities, your child is guaranteed an amazing start to education.
Why Socialisation At An Early Age Is Crucial
As a parent, you probably realise the importance of socialisation for your child better than anyone.
Apart from the fact that it assists with your toddler's overall expansion and growth, social interaction also aids in the following:
Helps children to clarify and hone their sense of self
It builds essential emotional skills such as empathy for others beyond their friend circle.
 It helps young ones create concepts of what others anticipate from them
They play and interact with children their age to learn how to set boundaries, share and problem solve.
As you can see, there is a massive range of indispensable benefits. What has also been noted is that kids will then transfer these socialisation skills to the home environment. You will then be able to witness the benefits and growth of your child first hand.
Related:  7 Ways to Be More Present with Your Child
How A Pre-School Or Day Care Centre Can Help
Your child will interact with other kids and adults throughout their learning experience. They will be in a safe environment which stimulates their mind whilst they learn the art of self-control. They will also soon discover there are both negative and positive consequences for their actions. This will all be placed in the context of their socialisation, so they will also discover how to navigate social cues and understand what responses are suitable.
Another essential aspect that a daycare centre provides is that children aren't just exposed to this learning process once a week. They undergo this growth and fine-tuning on a consistent basis which is part of what pushes them to excel at such a high rate. By the time the young child reaches school, they will be more than prepared to handle and confidently navigate the social world.
Another fantastic benefit is that kids get to work outside of their comfort zone. They build essential skills such as confidence, self-belief and self-esteem in the context of a centre. From a very early age, they can battle shyness and start interacting with anyone from any age with ease.
These are all fantastic results that can be witnessed by teachers, parents and the wider peer group of the child.
Over to You Moms
I know all children develop at different ages.  When were your children ready to start Play School and did they blossom at School as my son did?
This article is published in partnership with Mediabuzzer.
I am super excited to be partnering with Mediabuzzer to share tips and news that has the world abuzz.  Their first post is very congruent with my own belief system because I saw the benefits first hand of sending my child to Pre School.