Please follow and like us:
Christmas Decorating Ideas – Your Home Office
Ooh, I just luuurve Christmas time, don't you?  I love walking into shopping centres and hearing Christmas carols playing in the background. And when I received this contributed post I started whistling "Deck the Halls with Bells of Holly" … what a lovely idea! To decorate not just our home, but our home office too.  What fun!
Making Your Home Office Festive
It's almost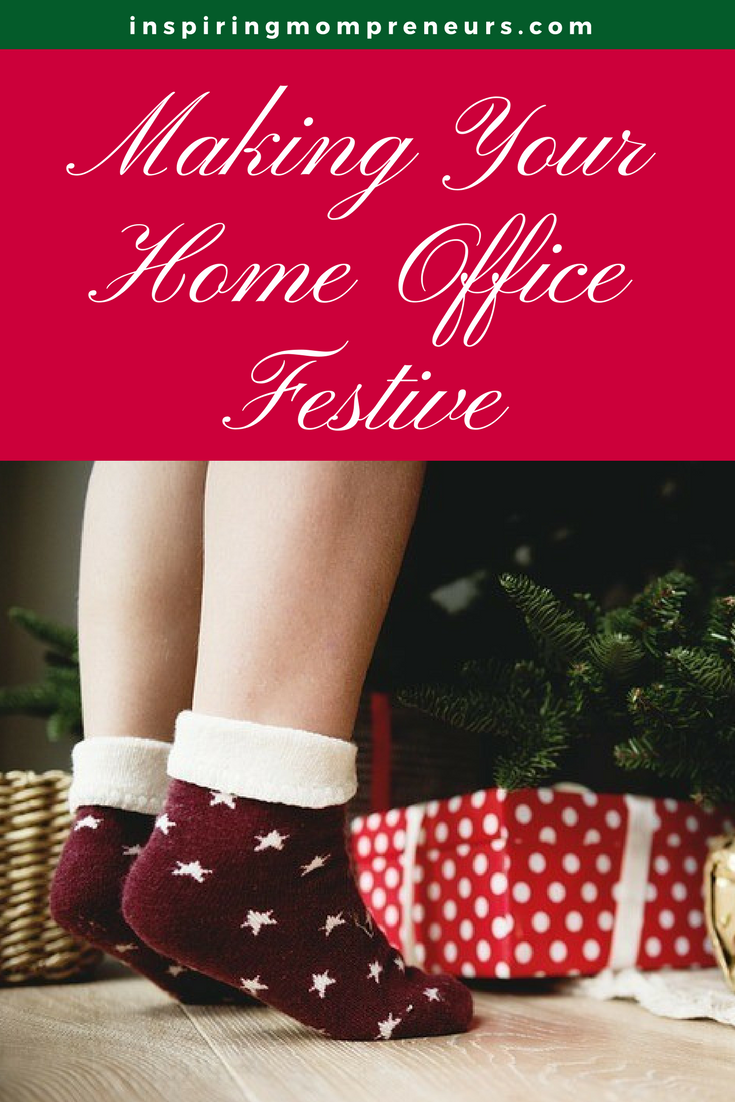 December, which means for many of us working in the office it's time to put up some Christmas decorations. If you work from home though, you may not have thought about the annual office Christmas decorations and you won't have anyone to spur you on either. The good thing is, you can still make some really amazing Christmas designs for your home office.
Santa
Find an inflatable Santa either online or in the store and place him in your office. Then decorate the whole office with Santa-themed goodies and items. You could even look into making your office into a Santa's grotto with plenty of lights, presents and a tree. Make your home feel like a place Santa would love to visit on Christmas.
Light Up Your Office
What kind of Christmas can you have without lots of festive lights? Buy a couple of sets of fairy lights from the store and wrap them over your desks and on the window. You could also get some office inspiration at Modern Digs and use that to help you decide what type of lights to use to suit your office design- and you never know, you could end up keeping them on all year round.
The Mini North Pole
If you love the idea of escaping to the north pole during the festive season but you don't want to pay for a holiday- turn your office into the north pole itself! Decorate the room with cotton wool, fake snow and snowflakes, then take some time making some cute little 'presents' to add to your desk. It will look super cute and very fun.
Winter Wonderland
Everyone dreams of having a white Christmas, and you don't have to manage without the snow this winter. You can make your own DIY fake snow by blitzing up some paper towels in a food processor until it looks like snow. Either that or just buy some snow spray for the windows and add in some glitter to make it catch the light and sparkle. Hang holly on the mantel piece and pinecones around the room for that extra festive feel.
I'm dreaming of a White Christmas…
Red And White
If you want to stick to that classic Christmas theme, you can't go wrong with red and white.  And of course, one Christmas item which is perfect to use for this theme is candy canes. Make your office into a homage to candy canes with a garland on the wall, candy canes hanging from the tree and add a few jars of treats to the desk. However, try and resist the temptation to eat them all at once!
Gingerbread Man
Gingerbread houses, ginger biscuits, gingerbread men… there's no doubt that Christmas is a time for playing around with spices. Why not build a gingerbread house and place it on your desk, hang up some festive gingerbread men and go crazy with the sweet treats? Basically, you want to make your office look like something that the witch from Hansel and Gretel would happily make her home inside.
Moms, would love to hear how you decorated your home office this year. Send me a picture of your super duper home office and I'll add it to this post with a mention of your website…
Please follow and like us: