Please follow and like us:
Meet Melissa Hancock: Chalk Couture Designer
Melissa Hancock describes herself as a goofy, fun loving boy mom who is starting something amazing.  Her boys have quite an age gap, one's in High School and the other's a toddler.
While looking for fun crafts to do with her little man at home she stumbled upon Chalk Couture and fell in love with everything it has to offer. 
Melissa is so excited her Chalk Couture venture will give her a purpose beyond the fun of laundry and dishes.
Read more in our exclusive interview with this inspiring Stay-at-Home Mom.
Lauren:           What is the name and nature of your business? The name is Chalk Couture, right?
Melissa:          The company is Chalk Couture and I'm an Independent Designer with them.  My website through them is Love is Blonde.  www.ChalkCouture.com/LoveIsBlonde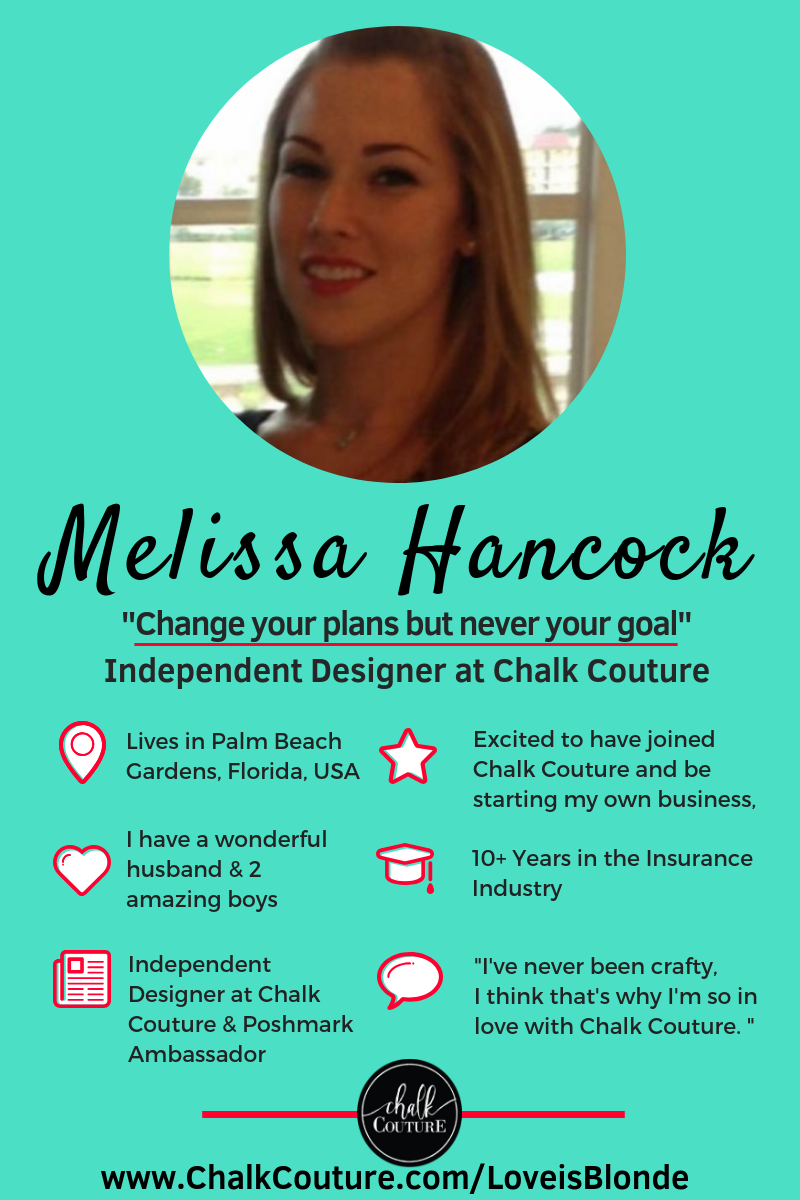 It's a Do-it-Yourself home decor and crafting company which is helping people like myself, who don't have a crafting bone in their body, make all these wonderful decorations for the house.  And it's totally become my obsession now.
You can do it on glass, on chalkboards, decorative plates, shirts or on pillowcases or on that gentleman's wheelchair that I showed you yesterday. You can put it on anything.
The chalk can be put on any surface and the design will stay there as long as you want.  But if you want to change it you would just get a wet towel or wet washcloth, wipe it off, wait for it to dry and you can do a new design.
With the ink, that's if you want to do something more permanent, you would put that on your glass or canvas or decorative tray or whatever surface you want it to stay on and then you would just heat-set it with a blow dryer for 4 minutes and you would have that design perfect.
So there are all these crazy options, it's not just surfaces they sell through the company you can use, you can put it on anything, And they are always coming out with new things.  It just makes it even more exciting.
We're putting snowflakes on our front windows this morning, that's our Chalk Couture project today.
Easy Christmas Crafts with Kids

Lauren:           And is it snowing there, are you in for a White Christmas?
Melissa:          No, I live in South Florida, I'll never see snow again.  I'm from New York so I', used to snow this time of year, but never again.
Lauren:           Who did you have in mind when you created your business?
Melissa:          I just started selling on Etsy. but I originally joined just for the discount because I was looking for something fun to do with my toddler because I'm a Stay-at-home Mom.  And I bought a kit that somebody else was selling online.
It was a sample Christmas ornament and it was so easy for him and I to do together.  So I looked into the company more and I decided I wanted to get into it because you can do it with your kids, you can do it your girlfriends, you know girl's night in.  Like they have those painting and wine parties, you can create beautiful designs from Chalk Couture while having a glass of wine with all your friends.
Lauren:           That sounds like fun!
Melissa:          Yes, exactly.   And do-it-yourself people, this is for them too because it's very hands-on.
And the best part of all is that the clean-up is like 5 minutes.  No matter what you're making, the clean-up is…
You just peel the design off
Submerge it in water
Take a cloth, wipe the chalk off
Lay the transfer flat to dry
Once it's dry, you put the backing back on
And you're done!
It's probably the easiest clean-up of any craft I've done with my toddler.
Lauren:           Because that is the most exhausting part of having a toddler, isn't it?  You're constantly, constantly cleaning up after them.
Melissa:          I'll send you the picture of the ornament that he and I made together, and you won't believe it. It's just a little Christmas ornament but for a 3-year-old!
Lauren:           Is this your first business or entrepreneurial venture?
Melissa:          I have a Poshmark Closet which a lot of people run as a business.
It's a website and app for selling new and used boutique clothing for men, women and children.  So, I have a Closet there, that was just a hobby, it's not a business but a lot of people do have it as a full-blown business, that's all they do.
But I think Chalk Couture is much more my style.
Lauren:           Is Chalk Couture only in America or is it in other countries?
Melissa:          It's only in the US for now.
Lauren:           How did you get into the business?
Melissa:          I just wanted to look for fun things to do with my toddler and that's how I found them. I sort of just stumbled upon it.
Lauren:           Can you remember how you stumbled upon it… where were you doing your research? 
Melissa:          I was just on Google looking at simple crafts to do with Toddlers and I came across this Etsy shop that had a sample ornament kit, so it came with a small round chalkboard ornament and a sample of paste and I chose an adventure design to do, "And so the adventure begins" which I thought was very cute.
And I got that a few days later and did it with him and immediately ordered another one, a Christmas one.
Lauren:           From the same person, the same Etsy Store?
Melissa:          From another Etsy store because she didn't have Christmas ones at the time.
Lauren:           And then you decided to start getting them wholesale?
Melissa:          Yes, that's when I read up on the company and I decided to sign up almost immediately.
How Does Chalk Couture Work?
Lauren:           When you sign up, do you sign up with the business you bought from, the Etsy store you bought from?  
How does it work – do you go through someone's link or buy from someone personally?   
Is Chalk Couture an Affiliate Marketing company or do they use a Direct Selling model? 
Melissa:          When I started doing my research on the company, I found a blog of this woman, Sarah, who has been with the company basically since it started just over a year ago. She gave me all kinds of information on her blog and she called me personally to explain more in detail and so I signed up with her.  And she has been just a huge help in getting me going and me to make a plan for what I want to do.
It is sort of a multi-level marketing company but there are so many avenues with the company that they don't force you to have other people join like most of those companies do.
You can join Chalk Couture just to get to the discounts and use it for crafting at home on your own, without making any kind of business.
Or you can join and buy the products from them at the discounted price and then sell it at retail price at craft fairs and through your website.
Or you can buy the stuff from them online and use other stuff from Michael's Craft Store, backgrounds, glasses, whatever, make finished products and sell those to people at craft stores or art festivals. 
Or you can go the route of building your own team and have other ladies join you and then all selling together.
Lauren:           And if you do it that way, is this Direct Selling in the sense that all those ladies must be living in your area or is it a Network Marketing model, so anyone can join you anywhere in the country?
The Chalk Couture Community
Melissa:          You can join with anybody.   My Mentor is in North Carolina, I'm in South Florida.
And once you're signed up with the company, they have a Facebook page for all the designers and it's a really supportive community and so I think I want in on it.  It's amazing.
There are a lot of ladies who have set up parties for Christmas, to do those make-and-takes I told you about, you know, the girls-night-in type of thing. And they would be out of one supply or another and all the ladies, if they have extra of what somebody was out of, they would immediately swoop in and save each other.
So, it's not a competition, there's no catfighting, everybody's very much there for each other and they send each other pictures of their latest designs, what they've done, they share ideas with each other, it's really, really supportive.
Lauren:           Awesome! So, have you gone that route as well? Have you started building a team?
Melissa:          I have not yet but I think I want to after seeing how they all stick together, like a big family.
Just before I signed up, they all went on a cruise together.  I think they took over this whole cruise ship and everyone had such a great time, they're still talking about it.  They are making this very, very fun for themselves and so I think I want in on it.
Lauren:           It sounds great, it's such a pity they're not in other places in the world, I can think of so many people who would love it.
Melissa:          Hopefully next year they'll expand.  But they are only about a year old, so they've made great strides already.
Lauren:           It'll take a while to get to South Africa, we're not exactly your logical next choice (laughing).
Melissa:          I will send a strongly-worded email for you.
Lauren:           It's very exciting though, it sounds like a company that's really going places. I've been hearing about Chalk Couture for a while, I've seen articles on Pinterest. And preparing for this interview, I clicked on a few of those pins and read the articles and watched the videos, so I had a better insight into what Chalk Couture is all about. And it looks amazing, it looks really fun.
Melissa:          And simple.  It's almost impossible to screw it up. And if you don't like what you made the first time, you wipe it off and start again.  I don't like the way this colour looks on this design, I'm going to do it over.
Lauren:           Aah, that is so nice.  
Is there anything holding you back from achieving success?
Melissa:          The only thing I'm worried about it is that I won't be able to express to people how easy it is, to somebody who has only made heard of it and never seen it.
As you said, the website doesn't give you the full idea, it's kind of hard to fully grasp just by looking at the website.
So I'm worried I won't be able to articulate exactly how amazing the company is without doing an example for them.
Lauren:           And don't you want to do a little video?
Melissa:          I am thinking of doing a video. I'm a little nervous about that, I'm very shy but I think I might do one in the next couple of weeks. I'm trying to get out of the box, out of my comfort zone, push myself.
Lauren:           Oh gooood… and then we can embed it into this post. 
And Voila!  A video presented itself.
And it contains a SPECIAL OFFER.
Okay, and we're back to our interview… 
On Motherhood
What has been the number one highlight of Motherhood for you?
Melissa:          This time around it's definitely being able to spend time with my son. When I had my first son, I was only 19 and I was working two jobs and I was a single Mom. And I didn't get to spend much time with him at all because I was always working to support us.
So, this time, just being able to spend time with him and be the one who's teaching him things daily and seeing how he's changing all the time is just amazing because I didn't get that with the first one.
After the first one, I said I was not doing it again but then my husband and I got married and he wanted a baby and I was like, "oh well, I guess we can try" and then it happened right away.
And he is so much better behaved than my first one.  I said if I would have had him first, I would have had 5 children.
Lauren:           Aw, you know why he's better behaved. Because he's got you there. 
Melissa:          Yes, I'd like to think that.
Lauren:           It is exactly that.  Have you ever heard of Hand in Hand Parenting? It's amazing. It's exactly that, the more you give to your child, the more energy you put into them, the more time you give them, the better behaved they are, because that's all they need.
Melissa:         You know what, I believe it, because I taught him sign language before he could speak, so he wouldn't get frustrated and have tantrums. And it was so much easier, when he could tell me what he wanted. When he was hungry, when he wanted milk, when he wanted a bath, instead of him throwing a fit because he couldn't talk, like the first one did.  He just told me what he wanted, and it made life so much easier.
Lauren:          Aah, that's amazing because I believe learning to speak (verbally) is really hard to do and children can understand things a lot earlier than they can talk.  So well done you.  I heard that it's possible, but I never did it because my son spoke very early.
Melissa:          My husband thought it was ridiculous, he said, there's no way you're teaching a baby sign language.  You're just making this up to make yourself feel like you're doing something at home. And then when he saw him do it, he said, Oh, my God, he knows sign language.  I said, well, I've been telling you that.
My husband was working nights at the time, he didn't see us much, we saw him very little during that 6-month period, so he was very impressed when he did get to see it.
Lauren:           What has been the greatest challenge for you to overcome as a Mother?
Melissa:          Oh, boy!  I would have to say, dealing with homework with my hormonal teenager. They either say they don't have it or can't do it and then you're just searching for how to help them and you really don't understand it.  And then they're changing the Maths on us now, this common core Math. It's just, you don't know how to do it, I don't know how to do it, we need to talk to your Teacher. 
That's definitely been the worst part. He's like, I need help, I'm like, Me too, kid. Let's call the School.
Lauren:           (Giggling) I'm so nervous of that. I've got my son doing Maths already, he's only 5, but he's doing a very different kind of Maths called Soroban Maths which is a Japanese method, where they learn with the Soroban, a type of Abacus.
Melissa:          Oh boy, that sounds like tons of fun.
Lauren:           Yes, I'm having so much fun with it because I really struggled with Maths in High School and I am learning a whole new way and I love it. I can't wait to do the homework with him (laughing). I sound like such a nerd. 
Melissa:          We should do that, right over here.
Lauren:           It's wonderful, it really is. I'm sure they do something similar in the US because I've heard it really makes a difference when the children do start Maths at School because they already understand the basics.
Melissa:          I'm starting Maths with my toddler but we're using cheerio's and M&M's, not quite the same.
Lauren:           That's also great. You're such a wonderful Mom. Here's the video that got me excited about A+ Students over here.
                        Has it been tricky balancing work and home life?
Melissa:          Well, since this is so new, not yet. But I think it will be once I get going because I'm going to try drag my husband into it, into helping me on his days off. But I think it will be fun.
Lauren:           So, you mean he'll help with the kids, so you can do it or you actually want him to help in the business with you?
Melissa:          Oh no, he's going to have to try do some of this with me, so he knows what I'm doing.
Lauren:           Awesome!
Easy Crafts With Kids
Do you feel you have already created your best work?
Melissa:          No, no way. They make so many new products constantly.  I get a new transfer every month, just for the people who are designers with them.  So that's like getting a Birthday present every month.
This month was the one about shoes and I am such a shoe fanatic. I was like, oh my God, I can't wait to get this in the mail. So, they come up with new things every month and they send out new catalogues for us to look at and they always have new ideas, new surfaces and new colours of ink and chalk.  They do special edition and limited-edition colours so everything's always changing, which is great.
Lauren:           Aah, that sounds amazing, I would love that too. 
                        So, what does it cost to be a Designer with Chalk Couture?
Is there a monthly cost for you to get your monthly treat?
Melissa:          So, when you sign up, it's $99 to get your website and your Starter Kit, which comes with $240 worth of supplies from the company.
And then monthly, for them to keep up your website and send you your monthly transfer, it's $19 a month.
Lauren:           Aah, not bad. Value for money.
Melissa:          Yes, really, it's like getting it for free. Because you can have your friends and family or people you're marketing to, go directly to your website and they can order whatever they want from your website and the company ships it directly to them.
Lauren:           Oh, awesome. I love that.
Melissa:          So, I think it's worth $19 a month.
Lauren:           Yeah, I definitely do too.
What is your discount on the products?  
Melissa:          It's 40% off everything on their site but when you first join you get a coupon for 50% off.
So, a lot of ladies when they join, they want a stockpile of stuff to get their business going.
So that first purchase, everything they buy is 50% off.
Lauren:           But still, 40% off is a really great discount.
Melissa:          Yes. And if you buy the transfers and pastes for 40% off and then you go to the Craft Fair, you can make a retail profit that way.
Or you can make your finished products and create your own pricing, depending on where you bought the surface you're using.
So there are a lot of different ways to do it. There's something for everybody.
Lauren:           Aw, I have such FOMO right now. I've got a lot of creative friends who would really love this. I wish we lived in the States sometimes, there are so many amazing things in the US.  
Do you have a message you would like the world to hear?
Melissa:          I don't know. Maybe just because I was always so shy, I never came out of my shell and this year, I decided it was going to be my year.   I would get out of my box and I would tell other ladies who have social anxiety disorders to try and do the same.
I've been letting it hold me back for 35 years and this year, it stops.
Lauren:           Awesome! That sounds brave. And you just stopped it, cold turkey?
Melissa:          I just came to a point in my life where I felt, it's ridiculous, I see everyone else having such a great life and I've let it hold me back for so long.
An example of how bad my social anxiety got, in High School, I would get French fries for lunch and then go hide in the bathroom and eat, just so people wouldn't look at me. That's how bad the anxiety's always been.
Now I'm planning on, in the next maybe 6 months, doing a Craft Fair booth which is something the old me would never even think of without having an entire meltdown. You couldn't drag me kicking and screaming to do something like that, even a year ago, but now, the new me is looking forward to it.
Lauren:           Aaaw, that is amazing!! 
And did you have to go through Therapy to get to this point or was it literally just a decision you made?
Melissa:          No, it's just a choice I decided I needed to make.
Lauren:           Bravo!  That's amazing. That is just a story worth sharing on its own.
Melissa:          Thank You.
Lauren:           Was there anything that prompted you to make this decision?
Melissa:          I just wanted the happy kind of life that everybody else my age has. Because everyone else my age does not have this anxiety problem.  You know, I'm only 35 and I just haven't been living because of my anxiety.
You know, you go on Facebook and you see all your friends doing amazing things and going out just for dinner or drinks and I could never do anything like that because of my anxiety.
I'm making this year my year.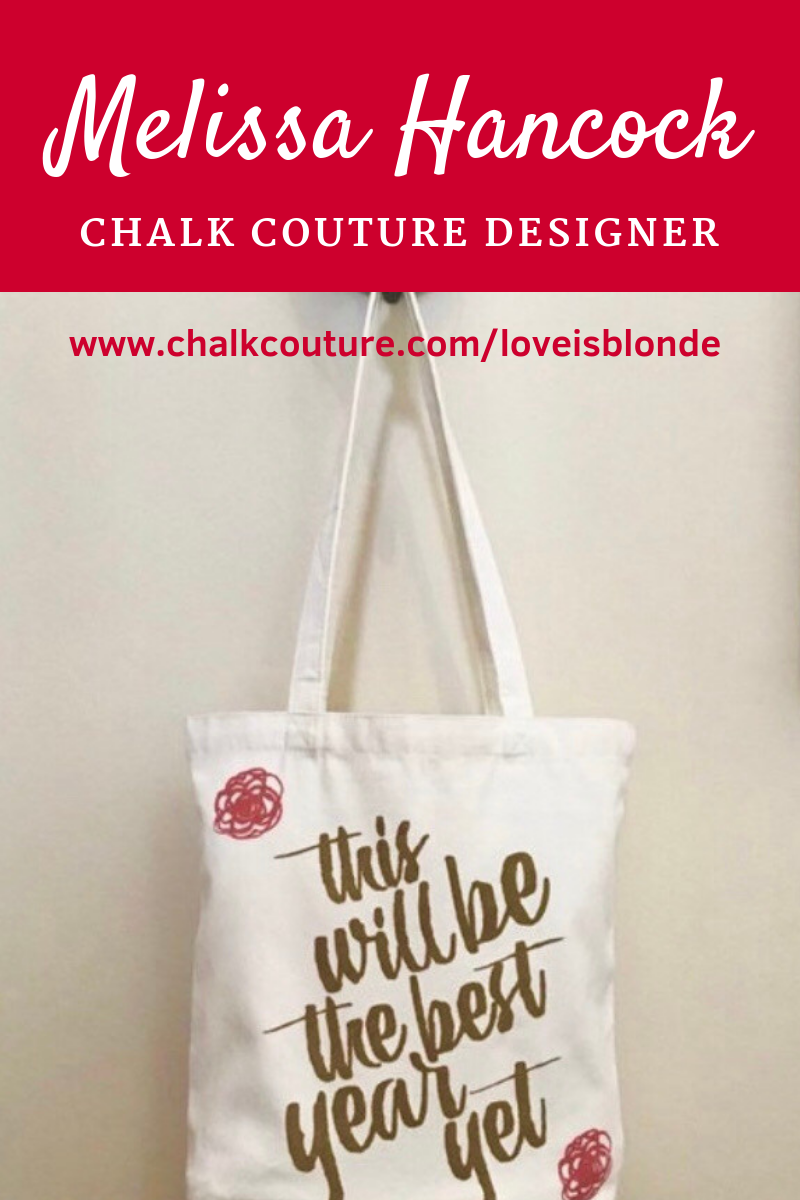 Lauren:           And when did you turn 35?  
Melissa:          In September.  It was when I started with this thought and then I found Chalk Couture and I said, this is it, this is how I'm going to do it.  This will force me to get out of my comfort zone and it will make me happy and it will be my own business and that's something everybody has wanted to do, be successful on their own.
Lauren:           That is such a beautiful story. I'll have to interview you again in a year's time, when you've going on your Cruise with your mates at Chalk Couture. Because I think the camaraderie of women is amazing, when women get together and support each other, it's one of the most beautiful things. 
Is there anything you know now, that you wish you knew when you first became a Mom?
Melissa:          Scheduling is everything. If my older son had had a schedule, life would have been so much easier.
But now, with my little guy we have somewhat of a schedule because my husband's schedule does change. He's a Police Sergeant so they change his schedule every few months. He's on nights, he's on days, we don't see him but what schedule I can set, does make life a lot easier.
Lauren:           What have you gained by becoming an entrepreneur?
Melissa:          I'm just starting out, but I think I'm very excited to grow my own tribe of other Moms and do-it-yourselfers and crafting hobbyists. All the ladies seem to have a tribe, so I think I'm going to get my own tribe going for 2019.
Lauren:           What are your hopes for 2019?  Is that the same answer…?
Melissa:          Yes!  I want to get my own tribe of ladies and we'll support each other and back each other up just like they do on the Designers Facebook page, that I've seen really around this Christmas time.  Really, they've made a huge impact on how I feel about the business.
Lauren:           So, is Sarah one of the leaders in the business? Do they have leaders in the business?
Melissa:          They don't really have leaders, but Sarah has been with the company since almost the beginning and so she's very high up in the company. She had her own Craft Studio starting out so that was a huge factor for her.  I don't have a Craft Studio to start out, but she did, and she did the classes there and the make-and-takes and that's part of how she got herself going. And now she's doing amazing.
And she's very supportive of all her Designers.  And I hope that next year, I will be as good as she is and help people the way she does next year.
Lauren:           What are your fears?  
Melissa:          That my shy personality may slow down my success. That's still something I'm going to have to work on, but I know that I can do it. Nothing a glass of wine can't fix.
Lauren:           (Laughing).  Dutch courage.
Which tools of the trade have been enormously helpful for you?
Melissa:          Definitely the transfers and all the designs.  I could never do anything crafty, I can't even draw a stick figure and make it look nice.  So, to be able to make something beautiful with these. They're like silkscreen transfers, it's just so easy.  You can't not make something pretty and that has been huge for me.
And all the different colour pastes.  I just got some pastes in the mail I was so excited about. One of the shades is called Kiwi. I can't wait to use that.
Lauren:           Oh, and while we're on that subject, what is your favourite colour? 
Melissa:          The Tiffany Blue, Teal, it's Chalk Couture's main colour, it's their website colour.  It just happens to be my favourite colour anyway so that makes me love it even more.
Lauren:           That's very clever of them, to make their signature colour your favourite colour.  And in fact, it's the most common colour Moms have chosen for their infographics when I've done their interviews, so I've tried to change the colour slightly every time. And I read somewhere that, blue is the most popular colour.  
Melissa:          Well I guess Marketing knew what they were doing when they chose it.
Lauren:           Yes, blue is also very popular with brands because it signifies trust.
Are there any people who have been enormously helpful to you? Do you have any Mentors?
Melissa:          Sarah is my Mentor, she's a military wife and she's just amazing with helping with any question I have. It doesn't matter when it is, I can message her, and she'll get right back to me.
That first time I talked to her we were on the phone for over an hour, so she really cares about the people who are joining, not just getting people to join.
Lauren:           Are there any connections on Social Media who have helped you?
Melissa:          Not specific people but all the Designers on the Designers website who post ideas and who comment. They all bounce ideas off each other with questions and comments and checking on each other, you know, "Do you need anything for your party this weekend?"  They are all just such an inspiration, they really are.
Lauren:          Have you found any Designers who live nearby?
Melissa:          No, there's only a handful of people in South Florida so hopefully I can change that because it is fun. We can go do our chalking and glasses of wine, girls-night-in and go from there.
Lauren:           So, it's still very small then… of course, it's only a year in, it's still going to take time to grow. Which is lovely, you're in on the ground floor of something amazing.
Melissa:          Yes, I'm really excited.
Lauren:           If there was anything I could help you with, what it would it be?
Melissa:          Just spreading the word about how amazing this is.
A lot of people don't really think something like crafting or home decor could be a great business for your Stay-at-Home Mom or your College Student.  This is something that I think a lot of people will be interested in.
Lauren:           Yeah, I think this is the PERFECT business for a Stay-at-Home Mom. Stunning.
Melissa:          Even retired people, School Teachers who used to love crafting with their students and are now retired.
Lauren:           I totally agree with you, anyone who's into crafting of any kind.  My Mom would love this, she's very crafty. 
Melissa:          I've never been crafty, I think that's part of the reason I'm so in love with it. But now…
Lauren:           So now you're making your house all pretty with stuff that you've made. And not just you, you and your kids.
Melissa:          I know, we're going to decorate the tree, probably tonight.  We've got it up and now we're decorating. So we'll be putting up our new chalkboard ornaments on the tree this year and every year from now on.
Lauren:           Wow, that is stunning. Now, is your older son into it? 
Melissa:          My older son hasn't done it with me yet.  He's seen me doing it with my younger son but he's usually doing his homework at that time.  But he'll probably create something to put on the tree this afternoon and I'll let you know how he feels. I know he thinks it's cool because he's seen us do it and he knows that I'm less than artistic.
Lauren:           So he's been impressed with what you've created. And is your hubby impressed?
Melissa:          He is and he's very proud of me for doing this as a business and a hobby because he knows about my anxiety, obviously.  We've been together for 8 years so he knows I'm very shy and I tend to stay in my comfort zone. And he's seen me, even just talking to you, doing this interview, this is far, far from the Melissa of last year, even 6 months ago.
When I gave him my business card, he was so impressed that I had gotten business cards and I was going forward with this.
Lauren:          I'm really proud of you too, so this is your first interview?   Yes.
But you know what, you come across as completely confident, you really don't sound like you're shy at all.  So you have already blown through that old you, it's gone.
Melissa:          If you had met me in High School, you would be laughing right now.
For a debate class, I had to debate, and I was so terrified of standing in front of the class, I asked a friend, who is very tall, to stand in front of me so that I could debate without people staring at me.  And that's how I got through this debate.  And my Teacher allowed it because they knew I was such a basket case.
Lauren:          I love that story!  That will really help people as well.
Melissa:         I got my Grade and I didn't have a heart attack, so I was really happy they let me do that.
Lauren:           That is amazing. So you found ways around it but now you've decided you're just going to let it go. That's just amazing.
Melissa:          Breaking out of the shell.
Lauren:           Brave, brave girl. And you know what, you're going to just love it so much.
Melissa:          Life is going to get so much easier.
Chalk Couture Giveaway
Lauren:           Who is your target market? If I were to give you a referral, who would I be looking for?
Melissa:         Hobbyists. 
Stay-at-Home-Moms. 
Crafters. 
Anyone who's looking for something new. Everybody likes to try something new.
I've heard that previously doing crafts like this you had to have all kinds of machines, a cricut maker and all these different types of materials, to create the designs.  And you'd land up spending hundreds upon hundreds of Dollars just to get the stuff you need to make the designs.
And here you just buy the design – put it on the surface – put your paste on – peel it off – and you're done.
Sarah is closing the studio she had with all those machines for doing all that because Chalk Couture has changed her life so much, she doesn't need it anymore. She's moving forward with Chalk Couture only.
Lauren:          Wonderful! It all just sounds so amazing, I just wish it were here too. Things take aaages to get to South Africa.
Melissa:         I will still try and send you a care package, even if you don't get it for 6 months, it will be like a surprise in the mail.
Lauren:           Aw, that's so sweet. Thank You.
So, at the moment your market is local unless you're selling on Etsy?
Melissa:          Yes, Etsy ships anywhere.  But you can't buy directly from Chalk Couture or join as a Designer unless you're in the US.
Lauren:          And can they join directly on your website as well? Is there a link on your website to join as a Designer?
Melissa:          Yes, there is.
Lauren:           If just one Designer joins you after reading this post, it will be worth it for you, won't it?  
Melissa:          I would do a happy dance in your honour.
Lauren:           (Laughing) But hopefully more than one joins you.
Melissa:         Yes, so let's sweeten the deal. I'd like to offer your readers a GIVEAWAY.
Melissa:          I'd like to offer the first 3 ladies who join me, $50 of free products.
Breaking News from Melissa: 27 February 2019
Chalk Couture is now offering a monthly subscription.
A new design and three paste samples delivered every month with a theme and for only $19.99 including shipping. That's a great deal considering the size B transfers alone are $14.99 without paste samples or shipping.
And, we are expanding to Canada. Calling all Canadians…
Find Melissa Hancock on:
Please follow and like us: