Please follow and like us:
Bitcoin is more than a decade old now and there are a couple of main differences between how we used the cryptocurrency when it first popped up and how we deal with it now. Some wise Moms may have invested in it already.
Firstly, today we have tons of different types of payment methods, making it easier than ever to purchase Bitcoin. Secondly, there's a lot you can buy with Bitcoin.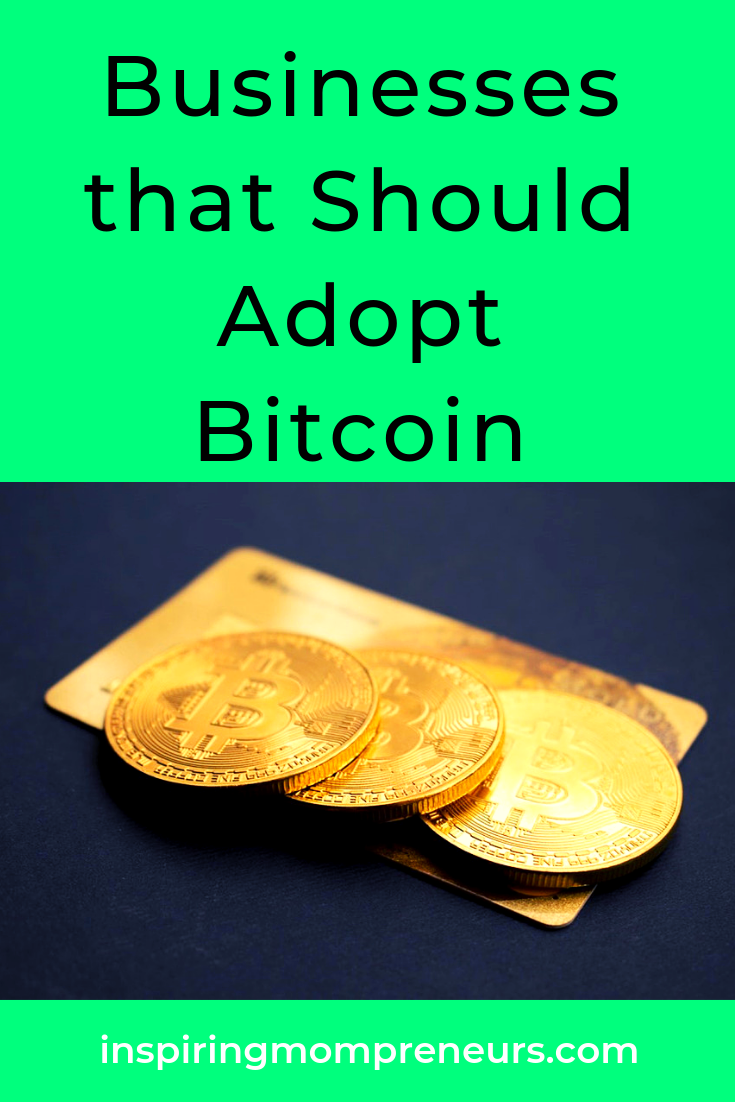 From your always-wanted Venus fly trap to a woolly mammoth tusk or even just paying the bills or shopping for furniture online. You can do it all with Bitcoin from https://bitcoindealers.com.au/.  
Interestingly, and well worth noting, is that Bitcoin doesn't need to have a high price. Since it is traded for goods rather being an investment, the price doesn't particularly matter.
There's no denying that Bitcoin is complex technology. It can be intimidating and confusing, to say the least. But luckily knowledge and acceptance that tech is on the rise.
Here are a few businesses we think should start accepting Bitcoin as payment.
Online Stores
When you're a Mompreneur and you run an online store, you can start accepting the cryptocurrency as payment by setting up buttons on your website and linking them to payment intermediaries. All you need to do is set up a "pay with Bitcoin" button to streamline the entire process. You don't need to be an expert to set this payment method on your website. With the help of the payment intermediaries, you get a couple of lines of HTML code to embed on your webpage and you're ready to accept Bitcoin payments!
Even if you don't get too many crypto payments, it wouldn't hurt your business to accept Bitcoin anyway.
Technology Businesses
If you run a tech company, chances are your customers are technology fans. When you start accepting Bitcoin, your brand will look more progressive, and it's sure to stand head and shoulders above the competition. It's also an exceptional selling point for your company as you're willing to adopt change and innovation.
Pretty Much Any Business Should Accept Bitcoin
If you're a fan of Bitcoin, there's no harm in accepting the cryptocurrency as a payment method, no matter what business you run.
The Bitcoin community is truly going strong, and they're passionate about finding more and more ways to bring the crypto closer to mass acceptance and use.
The more businesses that start accepting Bitcoin as a form of payment, the closer we get to accepting it as a regular payment method.
Don't be afraid of the price fluctuations, either. It doesn't matter so long as you're continuously trading. If all else fails, or you feel worried, you can go on peer-to-peer platforms and trade your Bitcoin for whatever you prefer, like trading them back for cash, gift cards or any of the many payment methods on offer.
You can even create an entire business around this concept, like selling gift cards for cryptocurrency.
Best of all, accepting Bitcoin is as easy as setting up a wallet and getting your customers to send their payments to it. It won't do any harm to your business to set one up.
Just make sure you do your research and provide the correct information so that everyone is on the same page.
Have you ever dealt in Bitcoin?  Are you accepting Bitcoin payments in your business?  I've never quite got my head around cryptocurrency, but like it or not, it seems like Bitcoin is here to stay.
This post was published in partnership with Mediabuzzer.
Please follow and like us: