Please follow and like us:
Best Careers Moms Can Choose
Looking for the best career options out there for Moms?  You'll find many listed on this site.  And you'll find a few more fun and fabulous ideas in this contributed post.  I can vouch for the first idea, writing and blogging.  And the last one fascinates me – I plan to be dabbling in the e-learning space in the next couple of years.  
Break The Mould: Exciting Options To Support Your Family Financially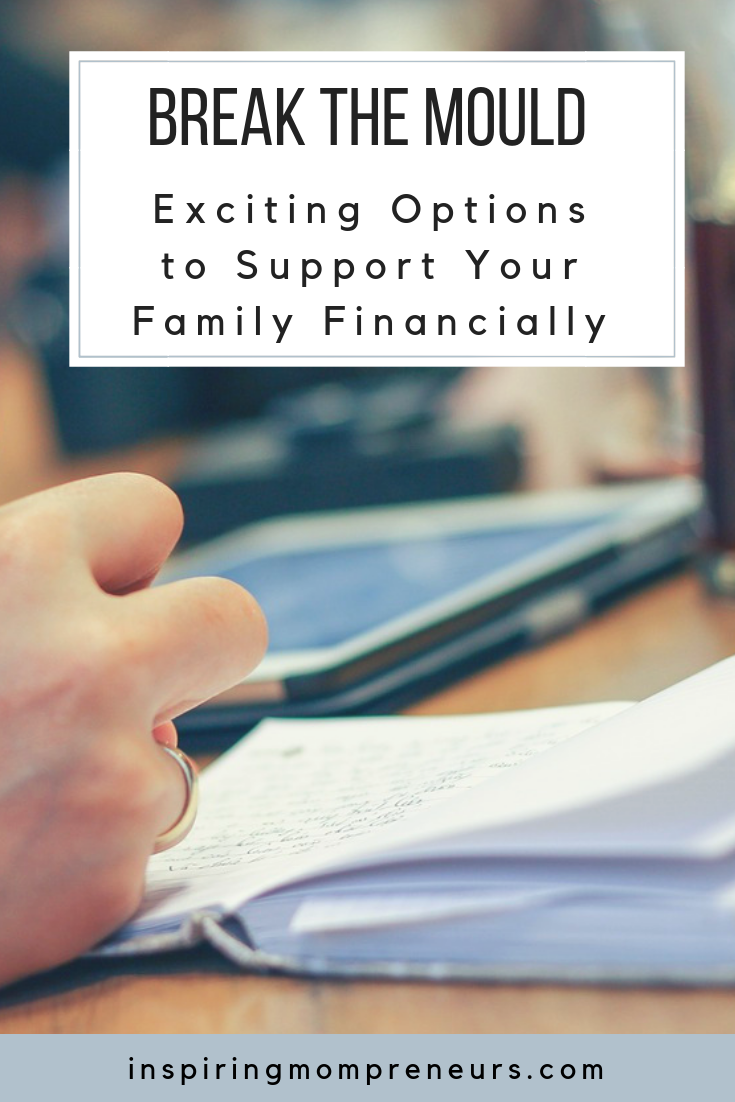 Money can't buy love or happiness, but it certainly does go a long way to paying for just about everything else, including the essentials in life such as accommodation, food, and clothes, as well as all the luxuries that most modern families enjoy. Of course, what that means for most families is that the adults need to work at jobs that bring in enough money to cover these costs, which is fine until you realize that your current career bores you to tears.  Luckily, even if you do find yourself in that position, it's not the end of the world, because you can discover some more exciting alternative options in my post below.
Writer / Blogger
Writing can be an interesting and viable way to support your family.
One way to break the mould of the standard and often dull 9-5 and do something different is to work at becoming a writer or a blogger. Of course, it's worth bearing in mind that for the most part these aren't jobs that you apply and interview for and are awarded to you. Instead, you have to pursue and hone your talent in your own time, often without payment until you are good enough or build up enough of a following to start generating some income.
Although, there are always exceptions to this rule, where you might write blog posts, or even ghostwrite books for someone else.
The great thing about writing or blogging is that much of the time you have a fair amount of control over the topics you write about. What this means is that you can focus on things that interest you, something that can make your working life that bit more engaging.
Nurse
Next, if you are looking for a career that combines challenge, helping people, and is just about as far from the traditional, boring 9-5 as you can get, why not consider nursing?
Of course, you probably know what a nurse is already, but what you may not realize is that there are a whole raft of different specialisations that it is possible to focus on, including working with infectious disease, skin conditions, and even in the operating room.
One of the best thing about nursing if you are considering going into it as a career, is that nurses are nearly always in demand. This means that whether you choose to use traditional newspaper ads, hospital websites and even agency sites like they from BlueForce you can be pretty confident of finding a post that suits you. Something that can be a great comfort when you know you want to make a difference in the world, but also have mouths to feed at home.
Stock Broker
Another option for moms that are looking to spice up their careers is to deal with investments and work the stock market. Yes, I know that we all have that stereotypical by image a stockbroker with their mobile phone, braces, and pinstripe shirt, but with some fantastic software and apps now available it's entirely possible to trade from your very own home.
Of course, it's best not to just jump in head first, and blow all the families savings on the first day. In fact, there is quite a bit of terminology, as well as the different types of stocks and bonds to get your head around.
Luckily, there are some pretty thorough articles on site like https://www.investopedia.com as well as plenty of Youtube posts on how the market works. Just watch out for those giving specific recommendation though, because these are likely to be schemes where people inflate stock to drive the price up and make money. See, you are learning the ways of a stockbroker already!
E-Learning specialist
Lastly, if you enjoying learning, training, or teaching an alternative career you may wish to consider is that of an informational designer. A role that is more commonly known as being an e-learning specialist.
Such a post entails designing the structure and overseeing the content of online learning programmes, where the learner guides themselves through the course.
It's a varied job, needing a whole range of skills from understanding how learning works and needs to be structured for the best effects, as well as some basic programming, to excellent people management and the ability to work to tight deadlines.
It's also something that has the potential to be done in a more traditional office setting, or on a freelance basis. Making it a stimulating and flexible way to support your family finally without being bored to tears; day in day out.
Over to You…
What have you found to be the best careers, Moms?
Please follow and like us: